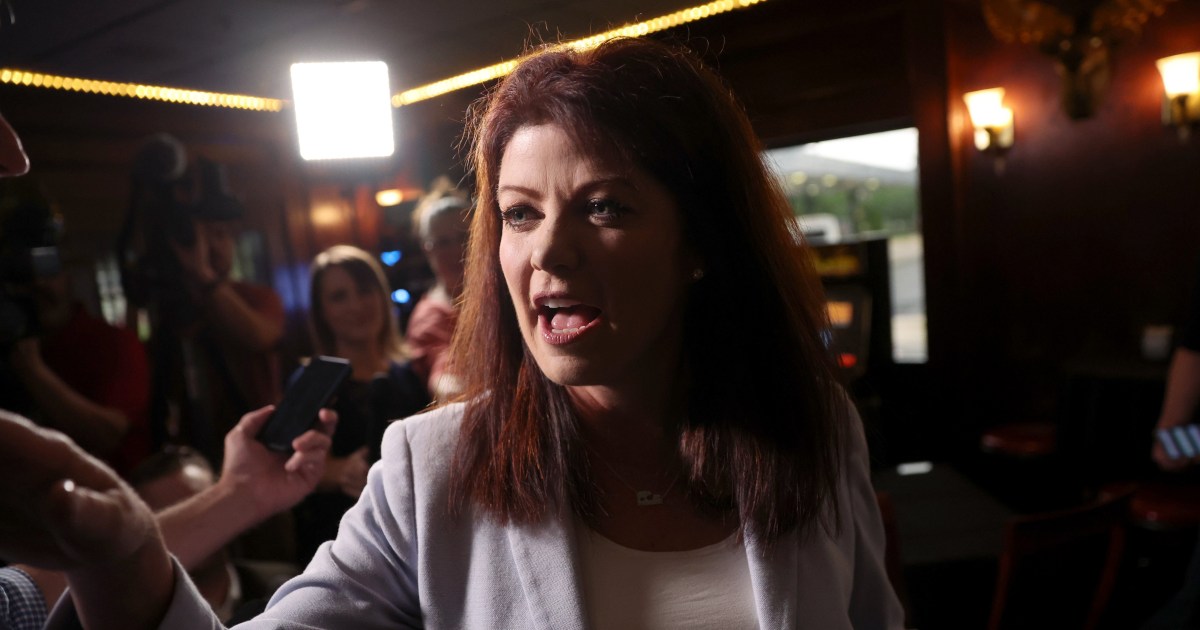 Minnesota and Wisconsin primary elections: what to watch?
Tuesday's Republican primaries in Wisconsin will provide the latest measure of former President Donald Trump's influence and grievances as he dwells – and continues to lie – on his 2020 election defeat while contemplating another. candidacy for the White House in 2024.
In the nomination race to face Democratic Governor Tony Evers in the general election, Trump is backing businessman Tim Michels over Rebecca Kleefisch, the state's former lieutenant governor. A third Republican candidate, Tim Rathmun, is trailing in the polls.
The past few days have indicated a close fight to the end, with neither Kleefisch's deep reservoir of establishment support nor Michels' endorsement of Trump pointing to a decisive victory. Michels has been cautious in recent weeks, sending mixed messages about the extent to which he is prepared to bear pressure from Trump to decertify President Joe Biden's victory in Wisconsin. He and Kleefisch both echoed Trump's debunked allegations of voter fraud in the state.
Kleefisch's supporting list includes Scott Walker, the former governor she served with, and former Vice President Mike Pence. The latter's involvement sparked another GOP proxy war between Trump and his former running mate, who resisted pressure to block certification of the 2020 election and is believed to be laying the groundwork for his own 2024 presidential bid. .
"If we don't come together after this primary, we can't win and beat Evers," Republican strategist Bill McCoshen, who is not affiliated with either candidate, told NBC News this week. "He can be seen as vulnerable, but he's also a likeable guy who has good favorable ratings."
Wisconsin's gubernatorial race is expected to be one of the toughest this fall, with Democrats battling to hold on to power in the Midwestern swing states that were key to Biden's victory. Trump has prioritized installing election-denying loyalists in governor's mansions and other state offices. Trump-endorsed gubernatorial candidates in Arizona, Michigan and Pennsylvania — the main battlegrounds Biden narrowly won in 2020 — have qualified for the general election. His efforts to unseat Georgia Governor Brian Kemp, a Republican who refused to overturn that state's election results, failed in a primary earlier this year.
The Wisconsin primaries also feature a revenge mission by Trump against State Assembly Speaker Robin Vos, who refused to overturn the state's 2020 election results. Last week, Trump endorsed Vos' main rival, Adam Steen.
There's less suspense, meanwhile, in Senate races. In recent weeks, Democrats have cleared the ground for Lt. Gov. Mandela Barnes, who is set to face Republican Sen. Ron Johnson, a Trump ally, in another key game this fall.
Connecticut, Minnesota and Vermont also hold primaries on Tuesday.
Another Trump-backed candidate is on the ballot in Connecticut. Last week, the former president endorsed Leora Levy in the state's GOP Senate primary while chastising her rival, Themis Klarides, for accepting support from establishment figures. Regardless of the Republican winner, Sen. Richard Blumenthal, the incumbent Democrat, would enter the general election as a frontrunner in the heavily Democratic state.
In Vermont's large congressional district, State Senator Becca Balint and Lieutenant Governor Molly Gray are the leading contenders in the Democratic primary and either would be heavily favored to win against the Republican and enter the history this fall. Vermont is the only state that has never sent a woman to Congress. Balint is the first openly gay pro tempore president of the Vermont Senate.
The House seat is open because Rep. Peter Welch, a Democrat, is seeking the seat vacated by U.S. Senator Patrick Leahy, also a Democrat. Welch is expected to win his primary on Tuesday. Former US attorney Christina Nolan and Army veteran Gerald Malloy are among the Republicans vying for the nomination.
In Minnesota, which has leaned towards Democrats in recent years but can be competitive, Republicans will choose candidates to face Democratic Gov. Tim Walz and Attorney General Keith Ellison this fall. Scott Jensen, a physician and former state senator, is favored in the governor's primary. Doug Wardlow — the losing GOP nominee for attorney general in 2018 and an attorney for My Pillow, the company founded by prominent Trump ally and Holocaust denier Mike Lindell — is trying again. He faces a challenge from newcomer Jim Schultz.
Minnesota's 1st congressional district is also holding a special election on Tuesday to fill the remaining months of Rep. Jim Hagedorn's term. Hagedorn, a Republican, died in February. Republican Brad Finstad, a former state legislator and U.S. Department of Agriculture official, is running against Democrat Jeff Ettinger, the former CEO of Hormel Foods.
In an unusual twist, Finstad and Ettinger are also candidates in Tuesday's primaries that will determine who will run in November's general election to represent the new 1st District boundaries that go into effect next year.
Adam Edelman contributed.